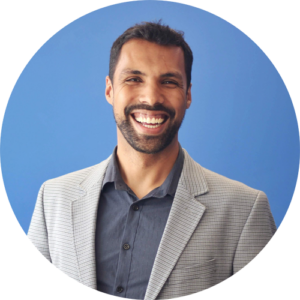 Fábio Gomes da Silva
Veja em Português | See in English | See LinkedIn Profile
Marketing and Digital Products Consultant
Brazilian, graduate professor at PUC Minas and UNIPAC in the area of Digital Marketing, specialist in digital communication, I work with a focus on digital marketing consultancy for more than 10 years.
I have experience in CRM management, marketing automation, lead acquisition for sales funnel, digital project management, paid media (PPC) and website optimization for search engines (SEO).
Education
Business Program
Marketing Executive Program – from Jan/2017 to Fev/2017
Business English – from Jan/2017 to Fev/2017
Ohio University – Athens/OH – USA
Post-graduation degree in Human Resource Management (from September 2015 to November 2016)
IEC Pontifícia Universidade Católica (PUC Minas, BRA)
Post-graduation degree in Web Application Development (from September 2011 to April 2013)
IEC Pontifícia Universidade Católica (PUC Minas, BRA)
Graduation in Multimedia Development (from August 2008 to December 2010)
Centro Universitário de Belo Horizonte (UNI-BH, BRA)
Professionals Experiences
Sales and Marketing Operations
Loadsmart (USA Company)
Responsible for the implementation and maintenance of processes related to Revops together with the sales and marketing teams using all the tools with the best possible use. (SalesLoft, ZoomInfo, Hubspot, LinkedIn Sales Navigator, Salesforce)
Development Coordinator and CRM Manager
VHSYS (Small company's ERP)
Responsible for the implementation and migration of own CRM to the Hubspot platform including the restructuring of some areas to adapt and train the teams and stakeholders involved.
Past jobs: Hubspot CRM and Automation Specialist
Inbound Marketing Consultant, Expert Services
Rock Content (Marketing de Conteúdo) (Latam)
Responsible for the creation and monitoring of Inbound Marketing strategies for Enterprise (1000+) companies in Rock Content. Helping these companies reach their revenue and growth goals through Inbound Marketing.
Focus in:
Alignment between Marketing and Sales;

Generation of Leads and Automation of Marketing (RD Station, Hubspot, MailChimp, Sales Force Pardot);

Intelligent nutrition automation for leads.

Optimization of websites and blogs for organic growth and to increase conversion rates;

Creation of specialized and segmented campaigns in the digital media;

Consulting of good practices of SEO, social networks, sales and e-mail;

Improved conversion of visitors to leads.
Partner Customer Success
Rock Content (Marketing Digital)
– Management of clients' portfolio from different profiles and segments;
– Development of Digital Marketing and Content Marketing strategies leading to success of the clients;
– Teaching concepts of digital marketing;
– Monitoring the "health" of clients and solving their problems before they even realize it;
– Negotiation of new contracts (upsell) aiming for a positive result of the clients and making retention of them;
– Delimitation of objectives, provision of consultancy, monitoring their own metrics and the sector's;
– Work Management to ensure that customers receive high-quality content.
Significant Participations:
Webinar for all community of freelancers;
Writer at marketingdeconteudo.com
Inbound Marketing training for coworkers
Post-graduation Professor
Faculdade Presidente Antônio Carlos (UNIPAC Barbacena)
Facilitator in the Post-Graduation course in High Performance Digital Marketing.
Disciplines: Inbound I and Inbound II (Saturdays)
Post-graduation Professor
Pontifícia Universidade Católica de Minas Gerais (PUC Minas)
Facilitator in the Postgraduate course in Management of Digital Marketing and Social Media.
Disciplines: Social Media Management I (Night Shift)
Significant Participations:
II Meeting of Entrepreneurs (2018). Panel and lecture on "How your competitors are using content marketing to intercept customers and leads that should be yours."
Marketing Analyst
ATS Informática (ERP Software) (Brazil)
Responsible for the training and monitoring of CRM and sales process of direct channels and distribution in the national territory. Worked in the acquisition of Leads and pre-qualification of potential clients to use the ERP system offered by the company. In addition to managing the company's social media and digital marketing actions.
Significant Participations:
Resulth Poynt product development for mobile payments;
Deployment and CRM training for sellers;
Responsible for improving the communication of the Brand in digital environments with the purpose of encouraging the sale;
Tracking results and KPIs actions in social media, PPC, email marketing, general campaigns;
Prospecting and analysis the target audience through digital marketing techniques like SEM, SEO, Remarketing, Analytics, and blogs. (Google Adwords, Bing, Facebook ADs and LinkedIn Ads);
Development of media planning for offline and digital marketing;
Events and fairs organization;
Managment of advertising agencies, suppliers and print shops;
Organization and production of internal and external events, such as conventions and fairs;
Research of customer persona profile definition;
Founder, CEO & Sponsor
Tricks – Radical Guide (App – Startup) (Brazil)
Responsible for developing new products, application and versions management, Set-up and follow up on Google Play Android, digital marketing, and new projects.
Multimedia Programmer
Conteudista Easy To Learn / Instituto FACEB / IBPAC / ALIAS (Brazil)
Developing interactive projects for the web using HTML5, JavaScript, JSON, XML and CSS, such as games, dynamic classes, and digital documents.
Setup and management of E-Learning platform as Blackboard and Moodle.
Development of graphical projects proposed on the basis of briefing information and visual identity of the customer from the storyboards.
Live broadcasts management, photos, video, support and webinars for customers and partners.
Head of Softwares & Systems Development
Eduplix (StartUp) (Brazil)
Development and adjustment of Web applications to cognition and analysis skills along with Neuropsychologists team, psychiatrists, and specialist education.
Web Designer
ATS Informática (ERP Software) (Brazil)
Development of internal and external communications, creating slides and printed advertising books, updating the institutional site, creating internal systems using Web technologies, generating content for institutional and fairs events, SEO monitoring and advertising campaigns.
Significant stakes:
Creation of the Restricted Area(Intranet) for customers;
Online advertising campaigns Monitoring (Google Adwords and banner advertising partner sites);
The rebranding of the marketing concept of the company.
Telemarketing system's development;
Intranet's development;
Authorized reseller's system development;
Site optimization for search engines.
Coordinator
Data Byte – Technical school (MG – Brazil)
Train teachers, develop and monitor lesson plans, recruitment of teachers, parent-teacher conference and institutional marketing.
Significant stakes:
Merit in participation, 2007;
Standardization of school courses, 2008/09;
Creation of extracurricular events for students, 2008;
Awarded Top Instructor 2008;
Site's development, 2009;
Online typing championship project, 2009;
Elaboration of Multimedia Course, 2009.
Computer Skills
Web Development
XHTML, HTML5, CSS, XML, MySQL Database , Action Script, JavaScript, JQuery, AngularJS, PHP and intermediate knowledge in Java and Android Mobile Development.
Design
Corel Draw, InDesign, Illustrator, Photoshop, Premiere, After Effects, Encore, Sony Vegas, Sony DVD Architect and 3DS Max.
Office tools
Windows, MAC OS, Microsoft Office Word, Excel, Access, PowerPoint, OpenOffice and Google Docs.
Extracurricular Lectures
Google Analytics, Google Adwords, Google Adsense, Google Data Studio, Semrush, Personal Administration, Marketing Digital, CRM, ERP, Photography, Video Edition, Design, Usability, UX and UI Design. Web Ergonomics, Information architecture, Digital Project Management, Entrepreneurship, Human Resource, Competitive strategies, leadership, SEO (Search Engine Optimization), Digital Mobility and Communication, Responsive Web, BPM, SCRUM and Web Patterns.
Certifications
OKR Essential: OKRs and Goals – Feedz – 2020
Adv SEO Course – Craig Campbell SEO – 2020
SEO Manager Certification – BlueArray – 2020
Link Building Test – SEMRush – 2020
Emotional intelligence – Escola Conquer – 2020
PDCA e SDCA – Rock Content – 2019
Feedback – Rock Content – 2019
RD Station Marketing – RD University – 2019
Channel Sales Partners Education – Facebook – 2018
HubSpot Trainer Certification – Hubspot – 2019
Social Media Certified – Hubspot – 2018
Specialist in Inbound Marketing – Rock Content – 2017
Specialist in Customer Success – Rock Content – 2017
Specialist in Content Marketing 2.0 – Rock Content – 2017
Specialist in Inside Sales – Rock Content – 2017
Specialist in Corporate Blogs – Rock Content – 2017
Specialist in Social Media – Rock Content – 2017
Specialist in Email Marketing – Rock Content – 2017
Specialist in Branding & Buzz – Rock Content – 2017
Specialist in SEO (Search Engine Optimization) – Rock Content – 2017
Specialist in Web Content Production 2.0 – Rock Content – 2017
Inbound Certified – Hubspot – 2017
SIMM Flex – Search – 2017
Google Apps – Google Apps Management – 2016
Android Developing – Framework System – 2016
Mentorship Google Apps – QI Network Google Cloud Partner – 2016
Google Adwords – Basic principles of advertising – 2013
Google Adwords – Google Display Network Advanced Search – 2013
Search Mechanisms – Assespro Nacional – 2013
Language
Portuguese (Native): Fluent
English – Common European Framework of Reference for Languages (CEF or CEFR): B2 Level
November 2020 – Belo Horizonte – MG / Brazil